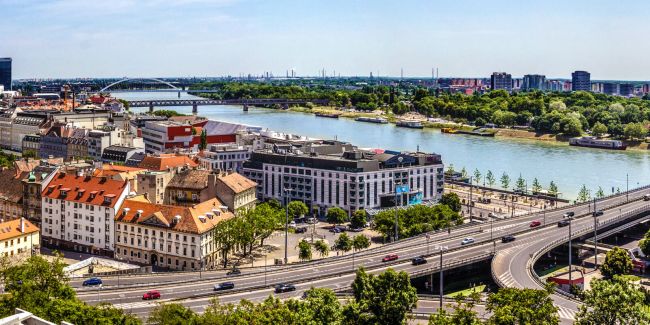 Slovakia
Description: Slovakia, officially the Slovak Republic is a landlocked country in Central Europe. It is bordered by Poland to the north, Ukraine to the east, Hungary to the south, Austria to the west, and the Czech Republic to the northwest. Slovakia's mostly mountainous territory spans about 49,000 square kilometres, with a population of over 5.4 million. The capital and largest city is Bratislava, the second-largest is Košice.
Find out what is it like to live in Slovakia
Where are the available jobs?
In 2021, there were the most vacancies in the public administration, defense and social security sector; industry; transport and storage; wholesale and retail; health and social assistance. There are vacancies for machine operators and assembly workers, craftsmen, service and trade workers, specialists, administrative workers. The information technology sector has long struggled with a shortage of specialists as well as healthcare with a shortage of doctors and nurses. There are also vacancies for welders, truck and truck drivers, bus drivers, forklift operators.
Where are the available workers?
The highest unemployment rate is among people with secondary vocational education and basic education. Most of the workforce is among auxiliary and unskilled workers.
Short overview of the labour market:
As of December 31, 2021, the Slovak Republic had a population of 5,434,712. The share of women in the total population was 51.2%. 5,733 immigrated and 3,395 people emigrated. On average in 2021, total employment fell by 1.4% to 2,560.6 thousand people. Out of a total of 18 sectors monitored, only 6 achieved growth, the most important education, information and communication and real estate activities. The largest decreases were throughout the year in accommodation and food services, where employment fell by 17.9%, as well as in arts, entertainment and recreation by 11.4%. The decline in the number of employees in the two most important employment sectors, industry and trade, was slight.
The number of persons working abroad for up to 1 year decreased by 5.4% in 2021 compared to the previous year to almost 112.1 thousand persons. They worked mainly in construction, industry, healthcare and social assistance. Within European countries, they worked mainly in Germany, Austria and the Czech Republic. More than a quarter of workers abroad came from the Prešov region.
The unemployment rate in 2021 reached 6.8%. The number of unemployed people who last worked in trade and construction increased the most. The number of unemployed who last worked in industry has fallen sharply. The highest unemployment rate was in the Prešov region (11.4%) and the lowest in the Bratislava region (2.6%).
The automotive, electrical and engineering industries have a dominant position in Slovakia. The information and communication technology sector and the shared and business service centers sector also played an important role. The largest employers in Slovakia include: Železnice SR; Slovenská pošta, a.s .; VOLKSWAGEN SLOVAKIA, a.s .; U.S.Steel Košice, s.r.o .; Kaufland Slovak Republic v.o.s .; TESCO STORES SR, a.s .; Železničná spoločnosť Slovensko, a.s .; Lidl Slovak Republic, v.o.s .; Railway company Cargo Slovakia, a.s .; IBM International Services Center s.r.o .; Schaeffler Kysuce, spol. Ltd.; Schaeffler Skalica, spol. Ltd.; BILLA s.r.o .; PCA Slovakia, s.r.o .; Kia Slovakia s.r.o .; Všeobecná úverová banka, a.s .; Tatra banka, a.s .; ZF Slovakia, a.s .; AT&T Global Network Services Slovakia, s.r.o .; Continental Matador Rubber, s.r.o .; Železiarne Podbrezová a.s .; Jaguar Land Rover Slovakia s.r.o. and others.
Depending on the type of qualified position, employers require their future employees in particular professional knowledge, language skills, experience, digital literacy. Of the soft skills, they most often require responsibility, communication skills, flexibility, independence, the ability to learn new things, teamwork and more. 
Links:
Central Office of Labor, Social Affairs and Family
Portal of the Statistical Office of the Slovak Republic
SARIO - Slovak Agency for Investment and Trade Development
Employing foreigners from outside the EU in Slovakia
Like EU/EEA and Swiss citizens, third-country nationals (foreigners from non-EU countries) also have the opportunity to work in the Slovak  Republic according to certain rules and regulations.  More information can be found on Employing foreigners from outside of the EU, specific information about the Aid for refugees from Ukraine.
Legal advice, job counselling, free Slovak language courses and financial contribution training or education for both foreigners from outside the EU and their future employers in Slovakia are provided by IOM Migration information centre.
Hot jobs:
Labour supply and demand are significantly affected by the current situation in Europe and therefore the labour market has changed compared to previous years. The positions that require specialised qualification are technologists, IT specialists, nurses and doctors. High demand is also for manual logistics workers, production workers, bus and truck drivers, couriers and vendors.
Hot Tip: Click here to start a chat with a Slovak EURES Adviser for information about the Labour market and your possibilities in Slovakia!
Availabilities: Every Friday from 08:30 to 11:30 (CET) in English, Slovak and Czech
Text last edited on: 05/2022