Obiettivo Tropici
Organisation type:
Company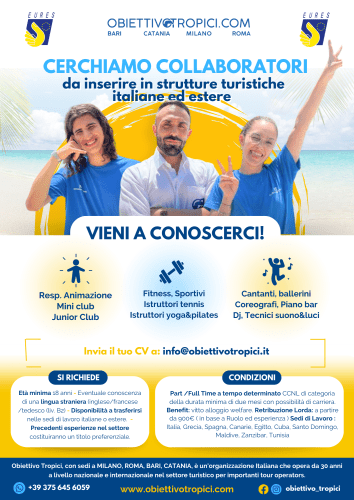 OBIETTIVO TROPICI is an Italian brand, working in national and international entertainment field, where it reached a high quality and proficiency level, thanks to its members' experience and to the co-operation with well-known business partners all over Europe.
OBIETTIVO TROPICI provides a wide range of services in order to develop and improve entertainment activities in holiday-resorts; to go on in details it prepares shows, organizes incentives, training stages and educational, paying a special care to amusement and sport.
Hot jobs
RECRUITING 1500 ENTERTAINERS AMONG SPORT INSTRUCTOR, FITNESS AND YOGA INSTRUCTOR; MINI AND JUNIOR ASSISTENT, DANCERS, CHOREOGRAPHER; DJ AND SINGERS TO WORK IN ITALY AND ABROAD FOR WINTER AND SUMMER SEASON 2024
REQUIREMENT:
EDUCATION: high school graduate (also in progress)
REQUIRED PERIOD: minimum  two consecutive months.
KNOWLEDGE:  Italian is a must, knowledge of other languages is preferred (english/german/french)
CONDITIONS:
PLACES OF WORK: Italy/Europe/Caribbean.
CONTRACT: fixed term contract according to the Italian law,full board up to the company,travel expenses will be borne by the candidates and will be refound only to those who will finish the season with an amount of the 50% of the ticket.
HOW TO APPLY: send  CV and photo to info@obiettivotropici.it