Krossbu Turisthytte AS

Organisation type:
Company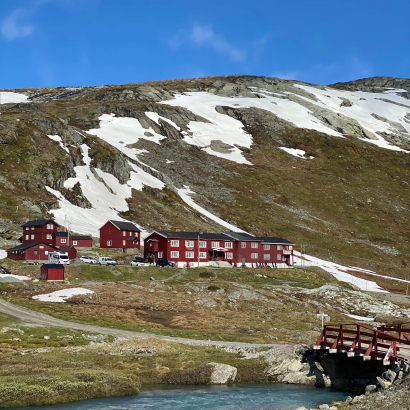 Krossbu Turisthytte (1901) is one of the oldest tourist huts in Norway, and is idyllically located by the FV55 Sognefjellsvegen, which is Northern Europe's highest mountain pass.
At Krossbu we have accommodation in rooms inside the cabin and camping. We serve breakfast and dinner every day. In the summer, we also serve lunch during the day.
We are located in the middle of the mountains, with over 20 2000m peaks around us. We are also located close to the Smørstabb glacier, and offer guiding to the glacier.
Our season lasts from Easter to mid-September.
In the spring season, we have many mountain peak tour guests. Then there is a lot of snow and most people use randones and mountain skis. In June we have the cross-country skiing season.
When the snow melts in July, the foot tourists and glacier tourists arrive. The glacier is at its best at the end of July and throughout the autumn.
Hot jobs
Housekeeping.
We need a person who is responsible for cleaning the hotel. We have approx. 28 rooms of different standards. This person will be responsible for washing the rooms, the common area and the sanitary facilities.
In quiet periods, it may also be that the person has to help with serving and kitchen service.
Do you have experience in cleaning?
Send us an application to lene@krossbu.no with a CV.
Receptionist.
We need a person who is responsible at the reception. It is necessary to speak a Scandinavian language.
As a receptionist with us, you must also help serve during meals when this is needed.
Do you have experience with reception work?
Send an application to lene@krossbu.no with a CV.