City of Varkaus
Organisation type:
Company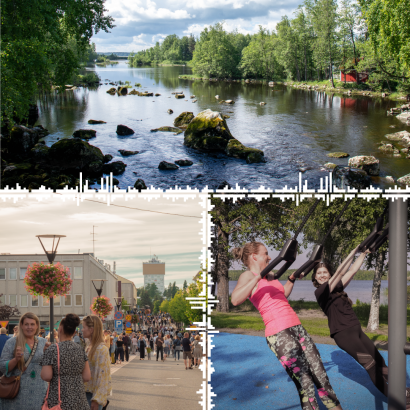 Easy living, beautiful nature and good work opportunities – why not relocate in Varkaus?
Varkaus is located in the heart of Savonia in Eastern Finland. In addition to railways, also highways 5 and 23 run through the town, making it highly accessible. Bigger cities, such as Kuopio, Mikkeli, Jyväskylä, Savonlinna and Joensuu are relatively close by (1-2 hours' drive), and Helsinki within a reasonable distance (4-hour drive).
Varkaus is surrounded by lush nature with Lake Saimaa extending up to the city center. Living is affordable, distances are short, public services good and accessible. Varkaus has 19 973 inhabitants - living is easy and people are friendly.
Varkaus has deep industrial roots and nowadays has a vigorous export industry. As a town built around industry, it has a unique architecture – shaped by such renowned architects as Ivar and Valter Thomé, Karl Lindahl and Alvar Aalto. Today Varkaus is known for modern technology and many international companies are based here.
There are more than 900 companies in Varkaus, and 1300 places of business. Several international companies located in Varkaus recruit employees from all around the world. See companies in Varkaus region. The largest employers in Varkaus region include City of Varkaus, Stora Enso, Andritz, Sumitomo SHI FW, Savopak, Elcoline, Aikawa Fiber Technologies, Call Waves Solutions Finland, Sahala Works, PeeÄssä and Nordic Power Service.  You can find job opportunities and information about working in Finland here.
Study in Varkaus
At Warkaus Campus You can find Savo Consortium for Education (Savo Vocational College and Varkaus Upper secondary School) and Savonia University of Applied Sciences.
Savo Vocational College arranges vocational education and training, whereas Varkaus Upper Secondary School provides general upper secondary education. In addition, the college is an active partner to local business life.
Savonia University of Applied Sciences is one of the largest and most versatile Universities of Applied Sciences in Finland. It provides education in six different fields of study. Versatile Degree Programs offer the students the opportunity to study as a fulltime student, alongside their job (Master's Degree and specialized studies) or flexibly in the Open University of Applied Sciences. Campuses are located in Kuopio, Iisalmi and Varkaus.
Meet our Global Talent Ambassadors!
William Luzzi (of Brazilian origin), a Design Engineer at Andritz Oy who now lives in Varkaus says:
"I would recommend Varkaus as a living and working environment as here you can find quality in both your personal and professional life. Varkaus has good job opportunities, and one of the major advantages for me is the surrounding nature, which is close to all cities here in Central Savonia."
William is one of many international talents living and working in Central Savonia. Here you can read their stories on why they chose to relocate in Varkaus and what benefits they see in living and working in Central Savonia.
Welcome to Varkaus!