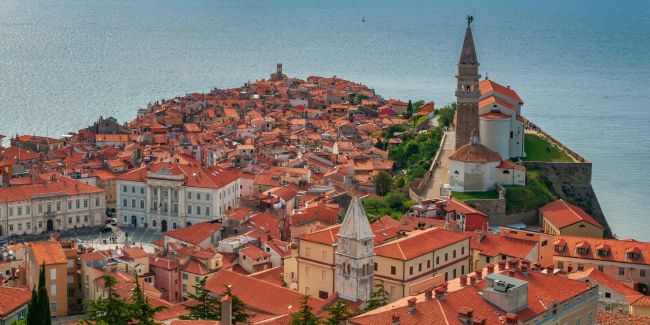 Slovenia
​Slovenia lies between the Alps and the Adriatic Sea and offers its inhabitants a moderate climate, stunning green nature, rich culture and a delicious culinary experience.
According to the OECD Better Life Index, work-life balance, community and health are the qualities most cherished by those living in Slovenia. Most Slovenians claim to be satisfied with their lives, feel safe in their environment with low crime rates and also low CO2 exposures.
If you're considering working in Slovenia, you'll be happy to hear that over 90 % of Slovenians can speak a foreign language and over 70% of population can have a conversation in at least two foreign languages. Especially English, German and Italian are widely used. 
In 2022 Slovenia has reached more then 15 mio overnights. Most visited: spa resorts, mountain resorts, seaside resorts, municipality Ljubljana. In Slovenia, tourism is an important branch of the economy, generating as much as 7,7 % of the country's GDP. (source: SURS)
Why working in tourism sector in Slovenia?
The total number of people employed by the tourism industry in 2021 represents 10.9 % of all employment, which accounts for 97,700 jobs (source: The World Travel & Tourism Council).
National Geographic: Slovenia among the top 25 inspiring destinations in 2023.
Slovenia was named 5th in the top 10 countries to visit in 2022, according to world-leading travel publisher Lonely Planet.
At the virtual event Global Green Destinations Days 2021, seven Slovenian destinations were included in the Top 100 Destination Sustainability Stories list.
The gastronomic magazine Food and Travel Italia awarded Slovenia the prestigious award for the Best Foreign Destination of the Year.
Useful links: 
Where are the available jobs?
Specialist medical practitioners
Cooks
Generalist medical practitioners
Nursing professionals
Bus and tram drivers
Heavy truck and lorry drivers
Carpenters and joiners
Roofers
Dentists
Waiters
Contact us at eures@ess.gov.si for more information or support.
Where are the available workers?
Administrative and executive secretaries
Conference and event planners
Photographers
Graphic and multimedia designers
Statistical, finance and insurance clerks
Sociologists, anthropologists and related professionals
Interior designers and decorators
Philosophers, historians and political scientists
Translators, interpreters and other linguists
Secretaries (general)
Contact us at eures@ess.gov.si for more information or support.
Short overview of the labour market:
Visit EURES portal for labour market information in Slovenia.
If you have any questions, we are here to help you. Feel free to send us an email to eures@ess.gov.si. 
Some most basic statistical data for Slovenia according to Republic of Slovenia Statistical Office.
Population: 2.110.547
GDP growth in 2022: 5,4%
Earnings: average gross salary in 2022 EUR 2.023,92 (EUR 1.318,64 net).
Unemployment in the 4th quarter of 2022: 3,5 % according to The Labour Force Survey (LFS).