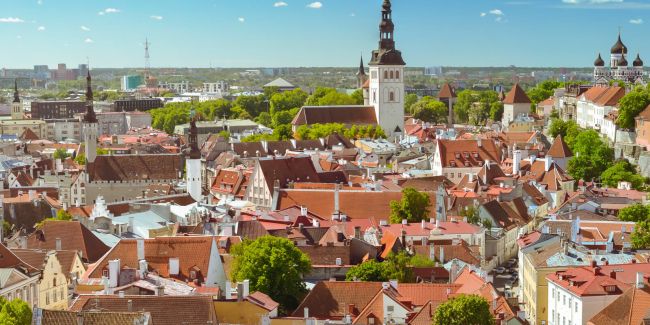 Estonia
Information on countries and restriction on freedom of movement requirements. Arriving from the European Union, the European Economic Area or the Schengen area.
A 10-day restriction on the freedom of movement applies on entering Estonia from a country in the European Union, European Economic Area and the Schengen area with an infection rate above 150 persons per 100 000 inhabitants in the past 14 days.
People are allowed to enter Estonia and do not have to follow the restrictions on the freedom of movement if they have no symptoms of the disease and they had the same rights before. For example, freight and raw materials transporters, people involved in international cargo and passenger transport, people involved in the technical work of a company operating in Estonia, health care providers, diplomats, people arriving within the framework of international military cooperation, and people with special permits to enter. Detailed information is available here https://vm.ee/en/information-countries-and-self-isolation-requirements-passengers 
Where are the available jobs?
As digitalisation has reshaped economies across the world, it has also resulted in a shortage of skilled ICT workers in Estonia. In the ICT sector, the need for software developers, analysts and engineers, and account managers remains the highest. In addition, engineering, technology, and medical services have an important part to play in the local economy as well. There is an increased need for specialists in almost all sectors. That affects natural science and technology science specialists, motor vehicle drivers, skilled employees in the metal and machinery industries, healthcare specialists, senior specialists in pedagogy, forestry, agricultural and food industry. The sectors with the most job vacancies mediated by public employment services are manufacturing, public administration and defence, education and human health and social work. Please have a look at 10+ useful tips that help you get your dream job. Tips on where to look for a job in Estonia. Land your dream job in Estonia!
Where are the available workers?
The largest groups among those registered as unemployed were service and sales workers (21%), craft and related trades workers (15%) and unskilled workers (21%). Statistics on the latest work experience of the registered unemployed can be viewed on the interactive desktop here tootukassa.ee.
Short overview of the labour market:
The Estonian job market is characterized by a high labour participation rate. The registered unemployment rate in Estonia (with total total population 1,3 mln.) in the aftermath of the coronavirus pandemic, stands at last month was 6,9%.
The following sectors are expected to provide the most employment opportunities: ICT services, highly qualified specialists, water and waste treatment, energy supply services, healthcare and social services, arts and recreation. In Estonia, there is a shortage of plumbers, mechatronic engineers and machine operators, as well as harvester operators and plywood processing staff. The timbre, electronics and electric appliances industries are expected to see a large increase in demand for employment in the near future. Estonia will also experience an acute shortage of teachers, educational support specialists, nurses, caretakers and motor vehicle drivers due to the high median age of workers in these sectors. Overview of labour demand forecasts on the Estonian labour market by region and specific occupation is published here.
Occupations expected to have the largest numbers of job openings in Estonia over the next years are the following:
- Information and communication technology: software analysts, architects; software developers; ICT systems analysts and architects; ICT systems developers and managers, electronic engineers, telecommunications engineers
- Forestry and timber Industry: harvester operators, forwarder operators, timber lorry and chipper drivers, production managers, timber structure designers, product developers, furniture technologists, technical drawers, production equipment technicians, builders and manufacturers of wooden houses (including hand-crafted log houses), timber construction builders, CNC bench operators, line operators
- Healthcare: care workers, nurses, pharmacists
- Metal and engineering industry: engineers, service technicians and mechatronics, CNC machine tool setters and operators
- Chemical, rubber, plastic and building material industry: industrial engineers, industrial machinery and machinery mechanics, industrial equipment and machinery installers
-Transport, logistics, sales and repair of motor vehicles: shipping electrical engineers, transportation and logistics manager, specialists
- Apparel, textile and leather industry: engineers, technicians, constructors, technologists
- Education and research: special educators, audiologists and speech therapists
- The agriculture and food industry: service technicians and mechatronics, industrial engineers
More detailed information about current labour shortages is available at the public employment services occupational barometer and The number of job vacancies surpassed 10,000 (corrected on 08.09.2021) | Statistikaamet
The plurality of vacant posts is to be found in the capital region – Tallinn and Harjumaa, followed by the Tartu, Ida-Viru and Põlva counties. It is important to bear in mind that, although wages in Estonia are noticeably below those of Northern and Western European countries, it is still quite high compared to Central and Eastern European countries and is approaching the level of Southern European countries. More information about wages in Estonia is available at Statistics Estonia  (on Estonian so far:)Wages and salaries and labour costs | Statistikaamet
Hot jobs:
Do you get excited about technology and innovation?
Welcome to the most advanced digital society in the world. In a country where 99% of public services are online, and everything can be signed digitally, technology is embedded in the culture.
Have you found the perfect work-life balance yet?
Short commute times and flexible working hours let you enjoy your free time to the fullest. Foreign talents also get to experience clean air, abundant nature and one of the safest cities in Europe.
Latest job offers of employers recruiting internationally are available here workinestonia.com.