TELUS International Europe
Organisation type:
Company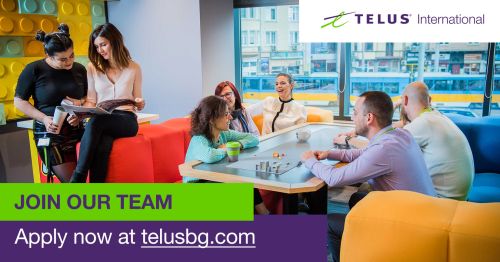 Find us in Skype with ID: live:.cid.a339a2b668f66418
TELUS International Europe is the biggest employer in the BPO sector in Bulgaria.
Our teams in the country number to over 3600 employees. We make sure that our colleagues work in a motivating environment, providing some of the most modern offices in top locations in two of Bulgaria's major cities – Sofia and Plovdiv. We take care of our teams by providing over 40 social benefits and ensuring that we also give where we live. 
With TELUS days of giving – which is just one of our CRS initiatives – we take time away from work to make a difference where we live, work and raise our families. Giving back is an essential part of our caring culture.
Hands down, our culture is also our competitive advantage. It's what fuels our innovative approach to delivering end-to-end customer experience solutions using next-gen technology.
Our clients range from some of the giants in the gaming industry, to fintech and financial services, communication and media, healthcare, travel and hospitality.
As a multilingual provider of business process solutions, we are constantly looking for more amazing people who know foreign languages to broaden our international family here at #thefeelgoodcompany.