Explorer Hotels

Organisation type:
Company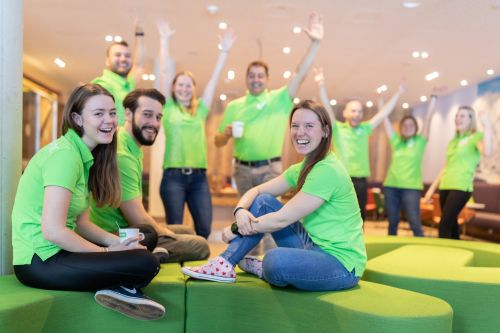 Hast Du Lust in den Alpen zu arbeiten? Dann werde Teil der Explorer Familie!
Die Explorer Hotels sind DIE Basislager für sportliche Alpen-Entdecker - unkompliziert, trendy und preiswert. Mitten in den Alpen - an 9 Standorten in Deutschland und Österreich- gelegen, sind sie die perfekte Location, um aktiv in die Berge zu starten. Und das nicht nur für Urlaubsgäste. Wir suchen dynamische und sportbegeisterte Kollegen, die gerne mit Menschen zu tun haben und Spaß an ihrer Arbeit haben. Denn von wegen die Hotellerie ist eingestaubt: Unser Team ist jung, dynamisch und wir bieten Dir echte Karrierechancen. Bei uns bist Du nicht nur irgendein Mitarbeiter - sondern ein Explorer Buddy, ein Urlaubsberater durch und durch für unsere Gäste.
Spaß wird groß geschrieben
Bei uns hast Du vielfältige Möglichkeiten das zu tun, was Dir Spaß macht. Ob Du im Service ein perfektes Frühstück oder einen kühlen Drink zauberst, an der Rezeption beim Check-in den Gast herzlich begrüßt oder ein Zimmer zum Glänzen bringst. Egal, ob Du nur eine Saison in den Bergen verbringen willst oder Ambitionen für mehr hast, es stehen Dir viele Türen offen.
Work-Life-Balance
Für welchen Standort Du Dich auch immer entscheidest, bei uns ist Langeweile ein Fremdwort - sowohl bei der Arbeit und erst recht nach Feierabend! Direkt vor der Haustür kannst Du Dein Entdecker-Gen so richtig ausleben und die Bergwelt ausgiebig erkunden. 
Aktuell haben wir Jobangebote an folgenden Standorten: 
St. Johann in Tirol bei Kitzbühel
Gaschurn im Montafon
Umhausen im Ötztal
Kaltenbach im Zillertal
Hinterstoder in Oberösterreich
Bad Kleinkirchheim in Kärnten
Are you ready to work in the Alps? 
The Explorer Hotels are trendy and newish basecamps for sportive explorer guests. Situated in the heart of the Alps, the Explorer Hotels are your location for spending an active holiday in the mountains. You have the choice between 9 TOP skiing and hiking regions in the mountains of Germany and Austria. The relaxed atmosphere, the modern design and the young team promise a perfect holiday-feeling. But not only for our guests. We are searching for dynamic and sportive colleagues who love working with people and are curious about learning new things.
The hotel-industry is boring? No way! Joining the Explorer Hotels you get true career perspectives and a relaxed working environment with young colleagues. With us you are not just an employee – you are an Explorer Buddy and the first contact to our guests.
Fun is a big part of our work
With us you have a variety of options to do what you really enjoy. Whether in service, at the reception or in housekeeping. Regardless of whether you just want to spend one season in the mountains or you have the ambition for more, a large variety of options are available to you.  
Do you want to combine your job and free time perfectly? 
Whichever location you choose, boredom is not an option, both at work and especially after work! Because right in front of our hotel door you can live out your discovery gene.
Jobs are available in: 
St. Johann in Tirol bei Kitzbühel
Gaschurn im Montafon
Umhausen im Ötztal
Kaltenbach im Zillertal
Hinterstoder in Oberösterreich
Bad Kleinkirchheim in Kärnten
Hot jobs
Rezeptionist in Kitzbühel und im Montafon