Action

Organisation type:
Company
Who is Action?
Action is Europe's major retail success story. We grew from a single store in Enkhuizen into an international retail organisation in the space of 26 years, with over 1,800 stores in 9 countries and an annual revenue of EUR 5.6 billion (2020).
Impressive numbers, but what really matters to us is people. Our customers, whom we want to offer value for their money. Whether they are bargain hunters or treasure hunters; with our surprising value-for-money products and low prices, we always manage to surprise them. And our employees, who work hard every day to make a success of our company and themselves. Over 50,000 people have opted for a career with Action; are you next? At this moment we have several open vacancies within our DC in Echt (The Netherlands).
Our values
This is what Action stands for, and we expect you to stand for the same things:
Customer-focuse
You understand that happy customers are what it is all about for us and will do whatever it takes to accomplish that. We will do whatever it takes to train you in this respect. Useful even for your post-Action career.
Teamwork
With Action, you never work alone. Success can only be achieved together with your colleagues, so you seek collaboration and share your information and knowledge with others.
Simplicity
Life is complicated enough as it is. So, we like to keep it simple. We have a practical attitude and work towards a clearly formulated goal.
Discipline
We know we can rely on our colleagues. So do what you say and stick to your commitments. Goes without saying, right?
Cost-consciousness
Like you, we want to have some money left at the end of the month. So you always try to find smarter ways of working and saving costs.
Respect
Our customers are as diverse as our employees: young, old, male, female and of all nationalities. We respect everyone, communicate politely, are honest and reliable.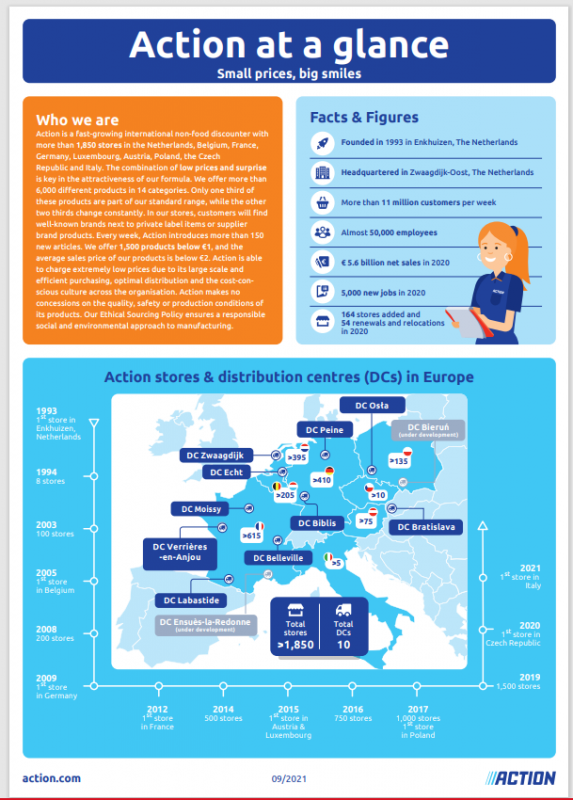 Hot jobs
- CE chauffeur/Truck driver;
- Medewerker beveiliging;
- Medewerker Technische Dienst;
- Teamleider;
- Operations Manager.