Organisation type:
Info point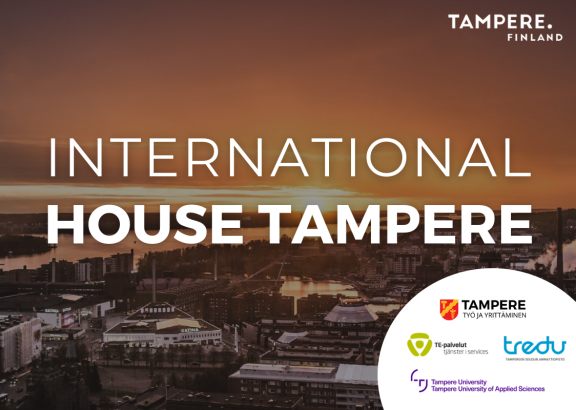 Tampere is the third largest city in Finland, with a population of 240 000 and the second largest urban area in Finland outside the Helsinki capital region.
Tampere is consistently rated as the most attractive city for tourism, living and studying. It is a growing city with a vibrant but laid-back persona. The city is famous for its industrial history, rock music, the local treat black sausage and high tech expertise.
Tampere region is home to a number of key industries with a high level of expertise in the field of:
Manufacturing Industries
Intelligent Machines
ICT
Life Science
Creative Industries
Cleantech and Energy
Nanotechnology
Circular Economy
International House Tampere
International House Tampere is a single service point for supporting internationals with living, working, studying and connecting with local employers​ in the Tampere region, Finland. International House Tampere brings services together for companies and international talents.
International House Tampere:
Supports the settlement of international professionals in the Tampere region
Encourages employers to utilize international professionals for business growth
Steers jobseekers with an international background towards open labour markets.
Job seeker:
You can ask us anything about living, moving to and settling in, looking for a job, studying or doing a business in Tampere.
We also give expert consulting in business and networking job opportunities across the Tampere region. We provide you free online advice in English, supporting you to identify opportunities that will accelerate your plans in Tampere.
Employer: 
We support you in the attraction, recruitment and integration of international talents. You can ask us anything related to international recruitment during the event in the chat or by contacting us by email international@tampere.fi, or by phone +358 41 730 2769 later on.
We are available in the chat during the event between 11:00 am - 12:00 am & 12:30 - 2:00 pm (CET). Come and chat with us to find out more!
Contact us:
international@tampere.fi
 +358 41 730 2769
Learn more about International House Tampere: https://internationalhousetampere.fi/
Related links:
Business and innovation ecosystems - Business Tampere
Work in Finland - Business Finland