Organisation type:
Info point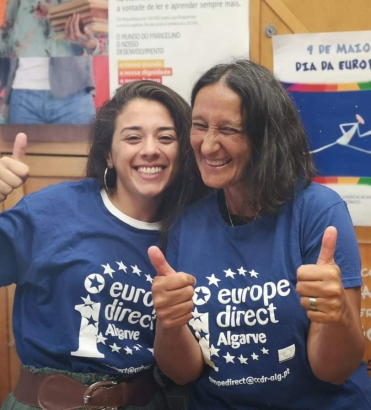 PT
Os centros de informação Europe Direct atuam como intermediários entre os cidadãos e a União Europeia ao nível local. A missão desta rede é:
■ permitir, a nível local, que os cidadãos disponham de informações, orientação, assistência e respostas a perguntas sobre as instituições, legislação, políticas, programas e possibilidades de financiamento da União Europeia;
■ promover ativamente o debate sobre a União Europeia e as suas políticas, a nível local e regional;
■ permitir às instituições europeias melhorarem a difusão da informação adaptada às necessidades locais e regionais.
■ permitir ao público enviar reações às instituições da União Europeia sob a forma de perguntas, opiniões e sugestões.
Atualmente a rede de Centros Europe Direct em Portugal inclui 15 centros.
O Centro de Informação Europe Direct Algarve (EDAlgarve) é um organismo oficial de informação europeia que a CCDR Algarve acolhe e dinamiza desde 1996, garantindo a todos os cidadãos um atendimento personalizado e totalmente gratuito.
No Europe Direct pode:
- obter todo o tipo de informações relativas à União Europeia (UE);
- colocar dúvidas sobre os seus problemas, direitos e deveres de cidadania;
- descobrir as possibilidades e oportunidades que lhe oferece o Espaço Europeu.
________
Europe Direct Information Centers act as intermediaries between citizens and the European Union at local level. The mission of this network is:  ■ enable citizens at local level to have information, guidance, assistance and answers to questions about the institutions, legislation, policies, programs and funding possibilities of the European Union;  ■ actively promote the debate on the European Union and its policies at local and regional level;  ■ enable the European institutions to improve the dissemination of information tailored to local and regional needs.  ■ allow the public to send reactions to the institutions of the European Union in the form of questions, opinions and suggestions. Currently the network of Europe Direct Centers in Portugal includes 19 centers. The Europe Direct Algarve Information Center (EDAlgarve) is an official European information agency that Algarve Coordination and Regional Development Commission (CCDR Algarve)  has hosted and promoted since 1996, ensuring all citizens a personalized and totally free service. At Europe Direct you can: - obtain all kinds of information concerning the European Union (EU); - ask questions about their problems, rights and duties of citizenship; - discover the possibilities and opportunities offered by the European Area.