Wood-Mizer Industries Sp. z o.o.

Organisation type:
Company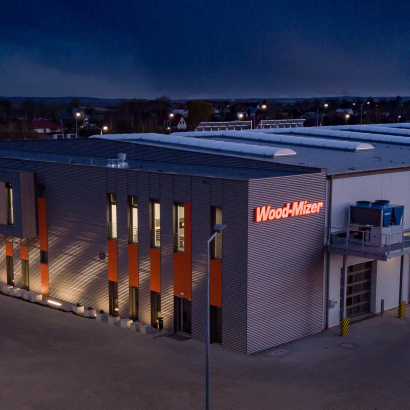 Established in 1982, Wood-Mizer is a well-established, innovative, and growing company that supports your individual career development within a team-oriented, diverse, inclusive, and energetic environment. Wood-Mizer is a highly-collaborative organization that designs, engineers, manufactures, distributes, and provides service for sawmill and woodworking equipment around the world. Pursue your next career at Wood-Mizer in Manufacturing, Shipping & Distribution, Customer Service, Information Technology, Design & Engineering, Sales & Marketing, Purchasing & Accounting, and more.
Wood-Mizer's history began in the USA in 1982 with the names of Donald Laskowski and Daniel Tekulve. Their first product – the 'LT30' sawmill ('LT' derives from the first letter of the co-inventors' surnames) was patented in 1984.  Later, a larger model LT40 was unveiled. A factory, set up in Indianapolis, subsequently manufactured over 2 500 sawmills in just 5 years. The inexpensive sawmill turning out lumber of the quality normally associated with costlier mills, was a success!
The portable sawmill industry grew and customers demanded sawmills with higher productivity. Wood-Mizer responded by launching the Super series in 1997. The next sawmill was the LT15 – the smallest offered by Wood-Mizer at that stage.
Their arrival in Europe was literally through a wind of change. A big wind. The 1987 hurricane laid waste to millions of trees in northeast France, Great Britain and southwestern Scandinavia. Orders from Britain and Norway bombarded the Indianapolis plant, indicating a wider need for the increasingly popular band sawmills all over Europe.
During 1989 and 1990, sales continued to increase in Europe dramatically and it was decided to create a European Office to take care of our European customers. Sales in Poland were also very brisk and it was decided to locate our European headquarters in Poland.
That was the summer of 1990. Today, the Polish Wood-Mizer Industries facility is a flagship development, setting the tone for the whole industry.
Here are some impressive facts about the 30-year journey of Wood-Mizer's European manufacturing centre, located in the Kolo, in central Poland.
• Wood-Mizer is equipped with the most advanced robotic metal-working machines from Japan and Germany and is constantly investing in the latest technological equipment and professional skills of workers.
• Wood-Mizer's workshops, warehouses and offices with an area of more than 15,000 square metres spread over nine hectares.
• Production of Wood-Mizer blades that were developed by the company specifically for wood cutting and became a model of quality in the industry, is certified according to ISO 9001: 2015. The range of cutting tools under the brand Wood-Mizer TOOLS includes more than 2,500 samples of narrow and wide band blades, planing knives, frame saws, circular saws; the range is constantly expanding.
• About 700  employees work at Wood-Mizer's European facility. Wood-Mizer provides advanced training, reimbursement programmes for higher education and invests in employees in many different ways. Production is continuously improved using LEAN manufacturing methods.
• Wood-Mizer's Design Bureau is a team of highly qualified engineers working in tandem with their American colleagues, developing unique technological solutions for efficient sawing. In particular, the new TITAN industrial equipment line represents both the design of sawmills and the production of equipment for specific customer tasks.
• The Polish Wood-Mizer factory supplies equipment and tools to four continents – to Europe, America, Asia and Africa. In the modern world, the quality of technological equipment is to be supported by the availability of after-sales service. Wood-Mizer service centers with spare parts warehouses and experienced specialists operate in 110 countries.
 
Today Wood-Mizer not only creates band sawmills and band blades. Recently, another European factory, located in Sweden, became a part of Wood-Mizer Corporation. Wood-Mizer AB produces high-quality compact, universal moulders / planers. In this way, Wood-Mizer's idea to supply equipment that processes wood from logs to finished products is realised.
Wood-Mizer has produced more than 80,000 sawmills operating today around the world.
You too can join the Wood-Mizer family. 
See more Kariera (woodmizer.pl)
Hot jobs
Blade Sales Manager
WORKPLACE: KOŁO
Responsibility:
develops and implements a sales strategy for the European HQ market area that secures sales goals and profitability,
analyzes and assesses sales results,
determines customer needs and preferences in local markets,
assists in the development and implementation of marketing plans as needed,
coordinates promotional activities throughout the market,
initiates and coordinates development of action plans to penetrate new markets,
controls expenses to meet budget guidelines,
adheres to all company policies, procedures and business ethics codes.
Requirements:
minimum 3 years wide-ranging operational experience in Industrial Tool Sales is a must (Wood Industry preferable),
extensive experience in all aspects of Sales and Customer Relationship Management,
strong understanding of customer and market dynamics and requirements,
willingness to travel and work in a global team of professionals,
fluent English (spoken and written) is essential.
We offer:
interesting and challenging work in an international company with an established market position and tradition,
international career opportunities within a global organization,
attractive compensation package.
Be advised that we only contact selected applicants.